Troubleshooting for Garmin Golf Watch Not Charging Problem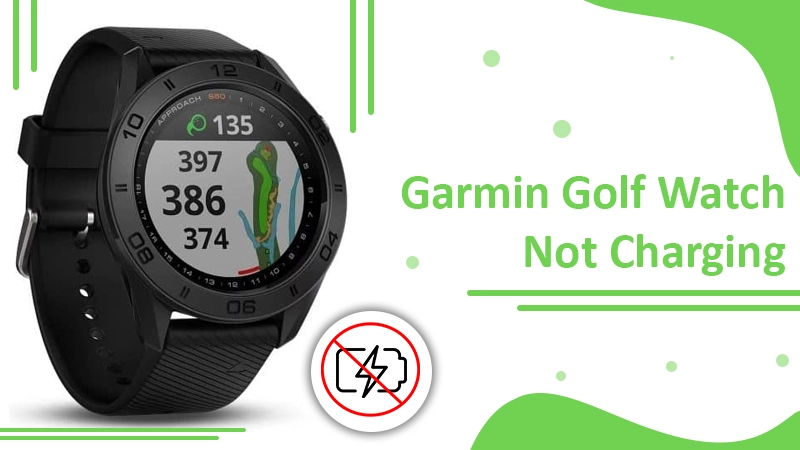 Garmin watches and wearables are quite common. They are a must-have for every athlete or fitness enthusiast who likes to track their performance. However, for these wearables to function efficiently, they must be charged. It is suggested that you charge their battery for as long as an hour so as to make the device functional. But what if you find Garmin Golf watch not charging even after you left it to charge? The problem is very common among users, most of whom start to panic the moment they notice a zero percent charge on their watch. That's why it's essential to find specific troubleshooting to help you get over this charging issue. Keep reading to learn about it.
Read Also – Why Gramin Watch Not Syncing
Why Is Garmin Golf Watch Not Charging?
The reason behind the inability of your watch to charge is not easy to deduce. Here are some possible causes why your device is encountering this problem. 
Your charging cable is faulty – A defective charging cable will not allow the watch to charge. Such a cable does not let the flow of electricity through the wristwatch. So, you must ensure that the cable your charging port is attached to works properly.
The sockets are faulty – Damaged or over-used sockets are another reasons that prevent the Garmin Golf watch from charging. Sometimes, the sockets can also get cracked. 
Defective batteries – Are you one of those who are complaining about your Garmin Golf watch battery not charging? Well, your batteries are faulty. Batteries become defective when you don't use them often or overuse them. 
You haven't updated your device – Garmin Golf Watch is a high-end electronic device and needs frequent updates. Although you'll often be notified of the updates, sometimes you may forget to update it. In such a case, the device will not function properly. 
Rusty charging clip – The charging clip of your golf watch can rust over time. Once it rusts, it will not work properly. If you find that your device hasn't been charged, examine the charging clip to see if it's rusted or not. 
Fix the Garmin Golf Watch Not Charging Problem
You can follow various methods to make your watch charge properly. The exact instructions for these are mentioned below. 
1. Do a Soft Reset
Don't worry, soft resetting your device won't delete any information from it. The steps to perform it are mentioned below.
Firstly, link your device to a system through a charging clip. 

Now, hold and press the Power button. 

You may need to hold it for 25 seconds till it switches off.

After that, switch it on again.

Let your Garmin watch charge. Do not remove the device till it charges 100 percent.

You will now find the watch charging properly.
2. Carry Out a Firmware Update
Another easy method to follow if the soft reset hasn't worked is updating the software. It may be possible that the firmware of your Garmin watch is obsolete. So, head to the Garmin Express website and look for pending updates. It's highly likely that a software update will fix the bug that's preventing your watch from being charged.
3. Replace the Battery in the Watch
You will find that your Garmin watch won't charge if its battery is damaged. Follow these steps to replace the battery.
Take away the back cover of the device. You will need the aid of a screwdriver.

Now, find the battery which is present near the end of the watch.

Replace it with a new one and place it in the same location.

After that, use the screwdriver to put the back cover in its position.

Your watch will now charge properly.

After you substitute the battery, see if your Garmin Golf watch is charging. 

Plug the cable into the watch as well as the outlet.

If you find the charging light turning on, it means that the wearable is charging.
4. Eliminate Tarnish from the Male Connectors for the Charger Dock
The Garmin charger dock's male connectors are made of copper. But this metal will undoubtedly tarnish over time. In such a case, it will become challenging for you to charge your device properly. You can eliminate the tarnish by taking a sharp knife and gently scrubbing the connector. It is specifically good for those who have been using their wearable for quite some time now. 
5. Plug your Charger into Another Socket
It's one of the easiest solutions when you find that your Garmin Golf watch won't charge. Often, your Garmin watch and charger will be working fine. The problem lies in the socket you are plugging your charger into. So, just take out the charger from the existing socket and plug it into another socket. It will immediately resolve the problem that you are facing. 
6. Examine the Charging Table
If the defective socket isn't the cause of this issue, you can now examine the charging cable. Disconnect and reconnect the cable. If you still find the problem persisting, use a different cable. In case the problem has occurred due to a defective cable, using a new cable will fix it. 
7. Clean the Battery Contacts on the Watch
Over a prolonged time, the contact points on the Garmin watch experience buildup. This happens when it is exposed to sweat, dirt, and dust. The buildup, in turn, results in the Garmin Golf watch battery not charging. So to fix the issue, just clean the contacts. It's recommended to use non-abrasive materials, such as eyeglass cleaner, warm water, and rubbing alcohol with cotton swab tips. 
After you clean the contacts, let them dry. Thereafter, try to charge the device. Most probably, you'll not face any issues in charging anymore.
Read Also – How To Update Garmin Golf Watch
Final Words
If you find Garmin Golf watch not charging, it's likely an issue with the battery or the firmware. So, you must check for faulty batteries and update your device. Using a different socket and doing a soft reset is also a good practice. If the problem persists, it's best to contact a professional support service.