Today, in this blog we will talk about the Garmin Vivosmart Band, a combination of Smartwatch and fitness tracker.Garmin is known to be the most effective GPS trackers with almost 100% accuracy. But to keep it effective over time, one needs to install the latest maps. Unlike other GPS that mostly give you vague results, Garmin provides you with accurate results which is why it is trusted by millions all over the world. Besides navigation devices, Garmin also produces impeccable fitness trackers and smartwatches. Garmin Vivosmart is one of the most popular and sold products of Garmin.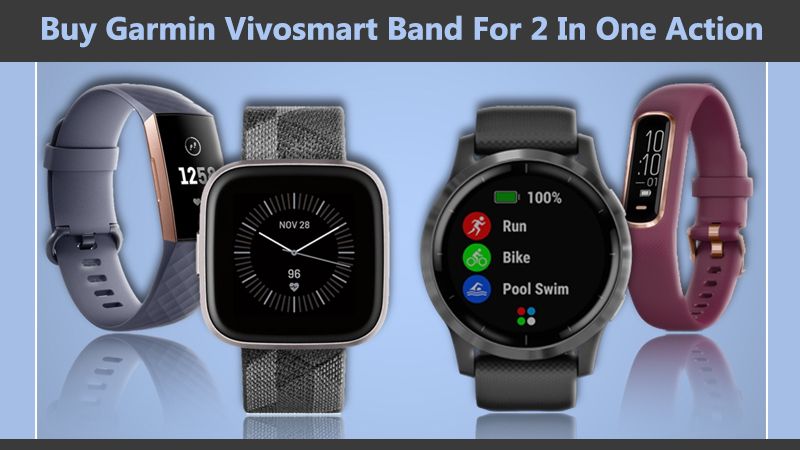 Garmin Vivosmart HR: A two in One Fitness Watch
The Vivosmart HR Band features all the functions one can expect from a fitness band. It is a complete package of fitness trackers and a smartwatch that performs functions. The watch can be used to track steps, calories burned, distance traveled, and even sleep. Not only that it also features all the functions of a smartwatch, i.e. you can have an OLED screen from where you can access texts, emails, incoming calls, notifications from social sites like Twitter and Facebook.
What Makes Garmin HR Impeccable?
The Garmin Vivosmart HR features a sleek and elegant design. The band has a hidden display which adds to its sleek and minimalist look. On the inside, the band consists of a set of charging pins that work with a proprietary cradle. Let's have a look at some features of the Garmin Vivosmart HR band.
The Garmin Vivosmart HR has a long-lasting battery life with up to seven days of run time. Even with heavy use, Vivosmart HR will easily last up to four to five days on average.
Vivosmart Band Compatibility with Devices
The Garmin Vivosmart HR is compatible with almost all Android and iOS devices. You can use it with all iPhones going back to the 4s and even iPod touch devices with fight gen. The band can also be used with your iPad 3 and all later versions.
Another thing that makes Garmin Vivosmart HR stand out. The OLED screen is actually hidden and only lights up after double-tapping. The fitness watch also updates your daily steps goal every day according to your activity in recent days. If you are really serious about your fitness, then Garmin Vivosmart is the perfect fitness watch for you.
Garmin Vivosmart HR consists of a unique Move Bar feature that helps you with staying active. If you've been inactive for an hour, the band will vibrate and display a line on your OLED display reminding you to move or have a break.
GPS Updates For Your Garmin Vivosmart
Do you find it hard to remember routes or travel to new places a lot? Then you might need a reliable GPS tracker to help you out with new and updated routes for your everyday journey. Garmin GPS not only helps you save time and resources but also reduces your dependency on road signs and your memory. Just open the route to wherever you are going and follow the maps without any hassle. Some Garmin devices like Drive assist 51 also help you out with parking. All you need is to connect your Drive-Assist 51 to your smartphone and it will show you the nearby parking options as well as their rates.
You can also save your Home and Work address and send commands like go home to start navigation easily.
Garmin GPS Update Procedure
Before starting with the Garmin GPS Update, make sure that your PC is connected to the network. Do not connect to public Wi-Fi for updates to avoid privacy issues. Now follow the procedure below:
First of all, to install Garmin GPS updates on your Garmin device, you need to Download and Install Garmin GPS Update from the Garmin webpage. You need to log in using your Garmin account and download the desired update.
Now you need to connect your Garmin Vivosmart to the computer with a USB cable. Once you have connected your GPS to the computer, you cannot disconnect it until the update is completed.
Open Garmin Express on your PC and wait as it identifies your Garmin GPS.
Look for GPS updates and download them.
Wait as the updates are installed and once the procedure is finished you can disconnect your device.
Use Garmin Express For Installing Garmin Map Update
Whether you want to install Garmin Map update, Garmin GPS update, or just register your Garmin product, you need Garmin Express to do all these things. The app helps you sync your data, keep track of the latest updates, register your device, and many other things very easily. You just need to download Garmin Express on your desktop from the official page of Garmin Express to get started. Once you have downloaded the application on your device, follow the steps below to learn how to install the Garmin map update.
If you haven't downloaded the Garmin Express app yet, then you can do so by visiting www.garmin.com/express.
Select Download for Windows or Mac version according to your computer.
Open the downloaded file to start the installation and then launch the Garmin Express app.
Once the app is installed properly, connect your Garmin Vivosmart GPS to the computer with the help of a USB cable.
When the app recognizes your Garmin device, enter your email in the given field to register your product.
Hit Save Device and then select Check For Updates.
A list of available GPS and MAP updates will show up on your screen.
Select the updates that you want to install and then hit the Install Now button.
This is how you can update your Vivosmart device using the Garmin Express app. If you need more help regarding your Garmin Vivosmart band, feel free to give us a call at the Garmin Support Phone Number. You can discuss your issue with our professionals to get your device fixed within a few minutes.